Use our thorough list of aluminum extrusion manufacturers and suppliers in to examine and sort top dynamometer manufacturers with previews of ads and detailed descriptions of each product. Any dynamometer manufacturers can provide dynamometer products and services to meet your companies specific qualifications. An easy connection to reach dynamometer manufacturers through our fast request for quote form is provided as well. This source is right for you whether it's for chassis dynamometer, engine dynamometer, portable dynamometer or any other dynamometer needs.
Companies Serving Near Virginia
Fairfield, OH
|
800-829-3244
Force Control Industries has been a worldwide leader of Oil Shear Dynamometer Load brakes for over 50 years. The Positorq Dynamometer load brakes are ideal for those difficult Low Speed-High Torque applications where Eddy Current, water wheel, or even AC system struggle. Many arrangements are available including foot mounted, shaft mounted, vertical/horizontal, and all-in-one packages with the brake mounted on the cooling system.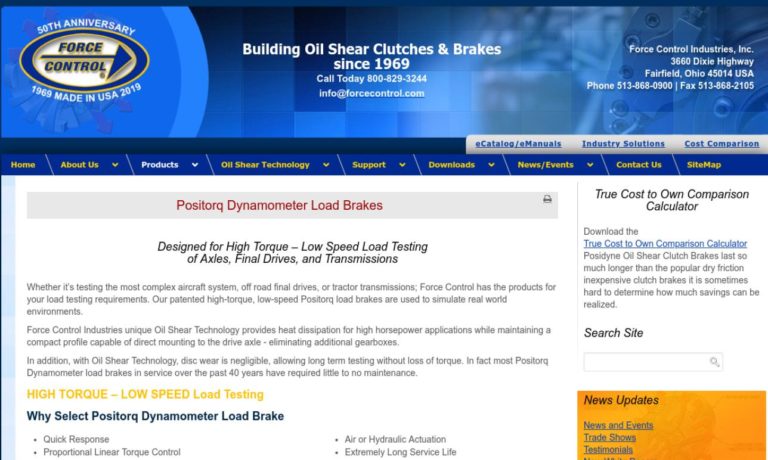 $$$
Twinsburg, OH
|
330-963-5400
For over 45 years, creative thinking and opportunity has been the driving force behind Mustang's tremendous growth and continued success. Since the very beginning, back in 1975, Mustang has keenly focused on anticipating, identifying and following the key industrial market trends that shape its businesses. Predicting and reacting to constant changes in government regulations, safety and emissions standards, technological advancements and the ever-present desire for increased performance is not an easy business, but it is precisely what has propelled Mustang to become a global leader in the development and delivery of today's most sophisticated dynamometer technologies and advanced engineering capabilities Starting from humble beginnings as an importer of electromagnetic braking mechanisms, Mustang has steadily grown over the years, adding capabilities and product lines year after year to get where it stands today – as one of the world's premiere manufacturers of automotive, industrial and aerospace testing systems and a leader in dynamometers and testing technologies. Much more than the typical dynamometer manufacturer, Mustang has slowly and steadily grown into a highly-diversified, technology-based engineering firm with world-class design, manufacturing, software and controls, and integration capabilities that position Mustang as a very unique supplier to the industry. Mustang Dynamometer will continue to develop, expand and refine its line-up of standard dynamometer products and work to respond quickly to the shifts and changes in the high-performance aftermarket and government regulated emission programs worldwide. Mustang Advanced Engineering will continue to focus its attention on the growing needs for advanced hybrid and electric vehicle development solutions, wind turbine gearbox testing, military vehicle development test stands and advanced testing and simulation systems for tomorrow's future technologies.
$$$
Cleveland, OH
|
800-765-1847
We have dynamometers from 44 lbs. capacity to 250 ton. Models with remote readout are available. A leading supplier of material handling equipment since 1951, our equipment has included dynamometers. Our force measuring device, Dynarope® Tensiometer, is accurate within a margin of + or – 1%.
$$$